My story is like Helen Keller's, the amazing woman who started out deaf, mute, and blind. Helen Keller had a teacher, Anne Sullivan, who taught her and took her out of isolation. My mom saved me from a life of despair by always believing in me and teaching me how to communicate.
I was born in Paris, France and diagnosed with autism at an early age. Participating in art activities were always difficult for me as a child. The smell of the paints and the feeling of the texture of finger paint were very unpleasant to me. I could not move a paintbrush, or squeeze a tube of paint. Dearly I loved watching the colorful paints in the Art Spinner go round and round and develop into colorful spiral patterns; this I enjoyed!
After Paris, I lived in England and then in California for my dad's job. My first educational experiences in CA were in moderate/severe special education classrooms.
Despite trying hard, I had little speech by age 17. But I learned to type and point to letters at home with my mother, and then at school with my teacher and school aides. Clearly I was able to learn. Finally my high school let me go to general education classes.
Truly an exciting time was when an MTV production crew followed me at school and in the community to highlight my story on MTV's documentary series True Life, in the episode, "I Have Autism."

The documentary won a 2007 Voice Award, and my story was covered by news such as NPR, PBS, The Chicago Tribune, Newsweek (cover article), and Fox News.
At age 21,after much hard work, I graduated with a full academic diploma. I was asked to give a commencement speech and I used voice output technology to do so.

When I discovered I could have a voice by typing to communicate, advocacy became an important part of my life.Frankly I wanted to help others who did not have a voice. After high school, I co-authored a book A Full Life with Autism (Macmillan 2012) and served as a Youth Representative to the United Nations for the Autism Research Institute (NGO); as a youth leader for the Autistic Global Initiative, and as a youth advisor to the California Employment Consortium for Youth (CECY).
I attended community college part-time for two years. Then, my world changed in 2011 when I communicated to my mother for the first time that I saw letters and words in color. Truly I thought everyone did, and was surprised by her reaction. That was how I discovered I had the gift of synesthesia. I also see numbers, emotion and music in color. Soon after in 2012, I began to communicate to others about the dreams I was having: dreams that I was painting the emotions of people I had met into colorful portraits.
One night I had a dream that I painted ten of my paintings and had an art show. Frankly I asked my mom if this could come true, and she encouraged me to paint in real life. In April 2016, my first curated solos show "Inner Dimensions" was held at Space4Art in San Diego, and was covered by national media including People.com, NBC, ABC, Good Morning America and thecreatorsproject.vice.com as well as local media.
Now I advocate through my art, and the presentations I give to schools and organizations, in person or over zoom. I tell my story to encourage others. Sometimes schools request a painting of their colors. The painting and description are hung in the school lobby, a daily visual reminder to students and educators to "Believe in yourself," and to "Follow your dreams."
Greatly I love meeting people over zoom or facetime to paint their portraits, showing their true colors representing their inner beauty and spiritual essence. In this way I feel I am making a difference in the world.
COMMUNITY AWARDS:
2018: Industry Expert – Del Mar Union School District

2016: Re-Imagine Autism Award – Autism Society of America, LA Chapter

2016: The Art of Autism's Hearts & Arts Awards

2012: Community Service Award – Naturally Autistic (Canada)

2006: Local Autism Hero Award – Cure Autism Now (now Autism Speaks)
ART AWARDS
2020 Featured Artist, Art Walk Little Italy

2016 Top ten finalist for 2016 Platform Artist of the Year

2016 Spotlight artist at ART San Diego 2016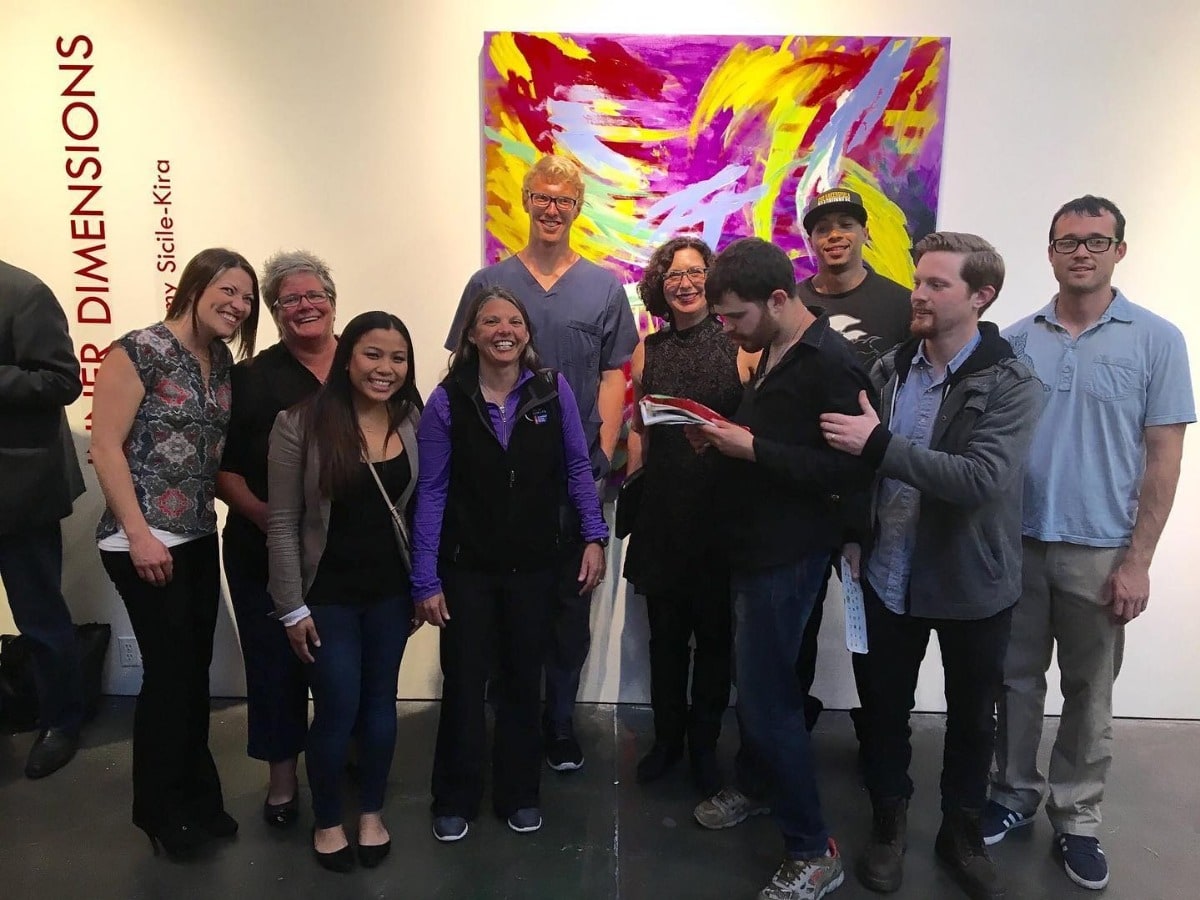 Thank you Team Jeremy for your support!